scheduling note: we will be away at a wedding January 29 thru february 5
we'll be back at it on february 9!
afterburn
the interval training class at balboa park
special offer
The first 8 enrollees are going to get some pretty cool stuff!
Waive the enrollment deposit and pay only the first month's dues
Bluetooth 4.0 / ANT+ heart rate monitor (Android/iOS compatible)
Complete initial and follow-up fitness assessment/consultation
Registered dietitian consultation
Quantities are limited, don't miss out!
Our class is for those who:
would rather do something different than everyone else.
recognize that fitness requires work, but who also want to work smarter.
are one of the chosen few who would rather workout outdoors.
enjoy the bond, energy, and camaraderie of a small group of classmates.
see what we have to offer and how we stack up against the competition.
We are currently filling our classes on:
Tuesdays and Thursdays
8:00am, Noon, 5:00pm, 6:00pm
Optional Saturday classes offered at 8:00am and 9:00am
5 years and counting…
We've been holding HIIT classes at Balboa Park for the last 5 years. In 2017, our students suggested we go thru the dark of winter so we brought the lighting. In 2018, we incorporated technology into what we do. Needless to say, we're looking forward to another 5 years and more!
check us out
technology to help you workout smarter, not just harder
efficient, full body workouts
smaller, more personal class size (4 students max)
classes throughout the week (MW, TTh, and Sa)
conveniently located in North Park
sneak a peek for free!
~ or ~
come visit

If class is in session,
thanks for not disturbing
FAQ
Q: What happens to class during bad weather?
A: We are very fortunate to have amazing weather here in San Diego – no snow, no thunderstorms, very little rain, and PLENTY of sun! However, during excessive heat warnings in the summer, we dial back the class and focus on core and flexibility. And, depending on the intensity of any winter/rain storms, for safety reasons we may switch exclusively to bodyweight exercises or reschedule class to a substitute day.
Q: I am new to HIIT and unsure if this is right for me. How do I know?
A: We welcome beginners to HIIT! Sign up for a Sneak Peek so you can see what exactly is involved and if you like it. After that, have an honest chat with yourself about your interest level and your commitment level. If you're okay on both fronts, you should have an okay from your doctor to participate in vigorous physical activity. This is primarily for your safety as well as the safety of your classmates and the instructor.
Q: How many classes a week is best?
A: The general consensus among fitness professionals is that for the typical person, 2-3 classes weekly with a 48 hour break between each class is satisfactory and recommended. Foregoing breaks reduces recovery time, increases the possibility of fatigue as well as the potential for injury.
we focus on…
Quality over quantity. Each of our HIIT classes at Balboa Park are restricted to 4 students; you'll consistently receive a higher quality experience on a more personal level.
Less is more. Lots of equipment is impressive, but our minimalist approach rotates several stations and select pieces of equipment in a thoughtful and effective manner on a monthly basis.
Working hard AND working smarter. The incorporation of technology into our class helps you stay in your optimal training zone to increase your workout efficiency and effectiveness.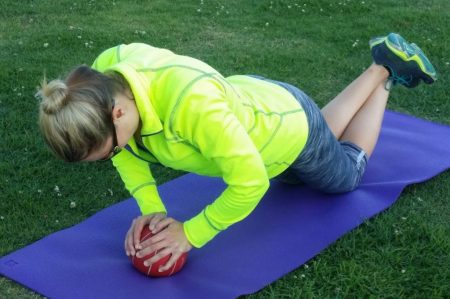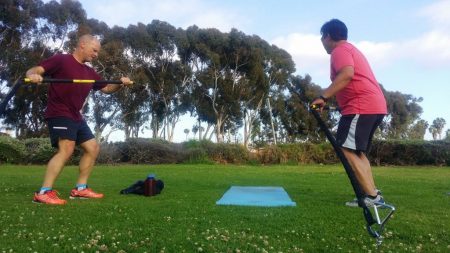 NOTE: Always consult your physician before beginning this or any exercise program. Afterburn The Interval Training Class is not intended to diagnose any medical condition or to replace your healthcare professional.