Vision
To help create a society educated on the fundamentals of nutrition and exercise and as a result, work to reduce the incidence of cardiac and metabolic-related diseases associated with sedentary lifestyles.
Mission
To help individuals achieve their fitness goals (increased lean muscle mass, reduced body fat, and/or increased cardio capacity) or their strength and conditioning goals within specific time-frames in their pursuits for healthier lifestyles, improved appearance, and increased athletic performance.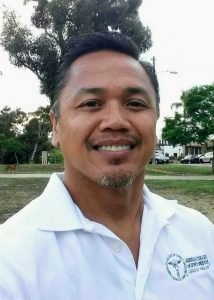 Freddy Saluna, ACSM-CPT, ΔΣΠ
Founder
Greetings! My name is Freddy and those who know me know that I'm a very passionate and determined individual. Certification with the American College of Sports Medicine (considered the "gold standard" in the fitness industry) was a must for me. Not only that, I've held many positions requiring peak physical fitness, most recently as a Field Training Officer and Emergency Medical Technician for a local ambulance company. As a former Lifeguard, Lifeguard Trainer, Masters Swimmer, coach for two United States Swimming teams, and licensed Paramedic, I am no stranger to rigorous, organized workouts.
However, life is not complete without twists and turns. I left the adrenaline of emergency medical services and emergency aquatics and worked for several years in Corporate America – first at The Hartford and then at a Hyatt Corporation spinoff; I know firsthand the stress associated with 40+ hour workweeks, requisite commutes, and wondering what happens with the rest of the time in one's life!
So why go into the fitness business? My dad had his first heart attack (and his first double bypass surgery) in his mid-30s and then died in an accident during his second bypass surgery at the age of 49. While there are never any guarantees in life, I'm willing to bet that had he known what we know now, he would have lived for many more years. There are certain fundamental, fitness basics every American should be aware of. At that point, the conscious decision should be crystal clear; live a healthier life not only for yourself, but for those whom you love and care about!
In what little spare time I have, I enjoy weightlifting and I'm quite possibly one of the most amateur amateur surfers in San Diego. I also enjoy climbing, hiking, the outdoors, traveling, photography, DJing, and I long for epic snowfall in my continual and annual pursuit of (at some point) returning to snowboarding.
Are you ready to get to work? Let's go!
Certifications and Education:
Specializing in (no particular order):
Core Strength and Stability

Aerobic / Cardio-Respiratory Conditioning / HIIT
Muscular Endurance, Hypertrophy (Size / Mass), and

Strength Training

Nutrition Basics
Lifestyle Fitness Advice
LGBT Health and Wellness
our philosophy
Personal health begins with commitment to a decision after visualization of a goal. We inspire and motivate each individual physically, emotionally, and mentally in their quest for personal fulfillment and a healthier life.
In today's rapid pace, "always on" world, fitness is often a neglected aspect of life with conflicting daily priorities. Complicating matters is a health and fitness world saturated with slick marketing and sensationalism.
We're here to help you sift through the overload of information and to dispel the myths and fiction which permeate today's exercise and nutrition worlds. We'll do it professionally and we'll back it up with our combined experience and knowledge.